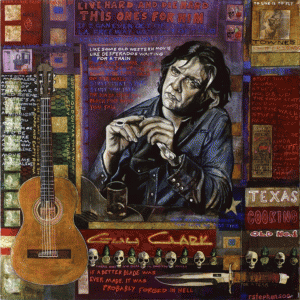 "Let's give her a good go, and make ol' Guy proud of us." With those words, Rodney Crowell launches into "That Old Time Feeling," one of 30 Guy Clark tunes covered masterfully and lovingly by some of the top performers in the genre.
Guy Clark's songs have been covered by so many, and so often, that there was probably some discussion among those on this disc about who would sing what. Take "That Old Time Feeling," for example: many people consider it a Jerry Jeff Walker classic. And JJW hasn't been left out; he closes the collection with "My Favorite Picture of You." Between those two are 28 other gems, totaling two hours of music. (Another song many consider to be a Jerry Jeff classic, "L.A. Freeway," is handled here by Radney Foster.)
And it could have been more; the list of great Guy Clark songs that didn't make the final cut is almost as impressive as those that did, and almost as impressive as the list of musical giants in this collection. Besides Crowell and Walker you can add the likes of Lyle Lovett, Shawn Colvin, Roseanne Cash, Suzy Bogguss, Ramblin' Jack Elliot, James McMurtrey, Joe Ely, Steve Earle, Kris Kristofferson, Robert Earl Keen, Vince Gill… and more.
Willie Nelson was a perfect choice for "Desperados Waiting For a Train," his distinctive voice matches the old West quality of the song perfectly. Shawn Camp's heartbreaking rendition of "Homeless" might have you emptying your pockets every time you see a homeless person, or at least feeling guilty if you don't. And Emmylou Harris and John Prine team up for "Magnolia Wind," making it there own as much as is possible with a Guy Clark song. But that's one thing that makes Guy Clark great: his songs are already so perfect that almost all of them already fit any singer, any style.
Every cut on "This One's For Him" is worthy of praise, but that would be overkill. Three others do merit special mention here, though. Kevin Welch brings his distinctive sound to "Magdalene;" it's hard to do anything but sit and listen when that one plays. On the other side of the coin, Ray Wylie Hubbard's "Home Grown Tomatoes" is, as always, just plain fun, proof that greatness can be achieved through simplicity. And Terri Hendrix does a masterful job with "The Dark," with the spoken lyrics perfectly suited to her Texas twang; when she says "It's so dark, you can see Ft. Worth from here," you can see Ft. Worth with her.
Kevin Welch, Ray Wylie Hubbard and Terri Hendrix have all performed at Sundilla.
"This One's For Him" has already won the Americana Album of the Year at the Americana Honors and Awards ceremony, and on February 10 will almost assuredly win the Grammy for Best Folk Album. So "Let's make ol' Guy proud of us" should be considered Mission Accomplished… and then some.