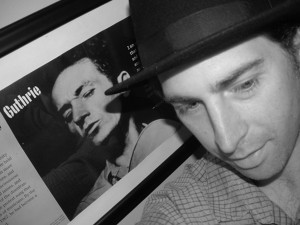 The Sundilla Acoustic Concert Series kicked of 2013 with Joe Crookston. Joe also took the time to sit down and talk to us from his home in the Fingerlakes region of New York state.
Take a journey through the best that singer-songwriters and acoustic musicians of all kinds have to offer through music and conversation. The Sundilla Radio Hour airs Thursday night from 9 to 10 p.m. on Troy Public Radio. The producer is Bailey Jones and the host is Kelly Walker. We welcome your comments at sundillaradiohour@sundillamusic.com.
Joe Crookston "Red Rooster in the Mash Pile" Able, Baker, Charlie & Dog
Act of Congress "She Knows Her Way Around" Declaration
Cheryl Wheeler "Gandhi/Buddha" Different Stripe
Joe Crookston "The Good Stuff" Fall Down As the Rain
Joe Crookston "To Keep You Warm" Darkling and the BlueBird Jubilee
Eddie from Ohio "Number Six Driver" Quick
Ellis Paul "Look at the Wind Blow" Say Something
Christine Kane "Made of Steel" Right Outta Nowhere
Joe Bagley "Saints" Nowhere St.