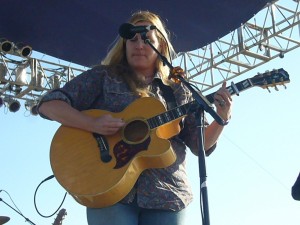 This past few years have been a testament to the long-held assertion that Susan Gibson is a road warrior in the truest sense in addition to being a dedicated singer, songwriter, and performing musician. The CMA award-winning songwriter (the Dixie Chicks took the Gibson-penned "Wide Open Spaces" to the top for four weeks) has been hitting the road consistently over the past 14 years, touring nationally in support of her own brand of Texas-Americana-folk music.
However, 2010 started off as the year where the road unexpectedly hit her back, when in February she suffered a severely broken arm, dislocated elbow, and shattered wrist in a car accident. Doctors estimated she wouldn't be playing guitar until early fall, and her record release plans were put on hold indefinitely. Road warriors don't sit around for too long when their livelihood involves playing music and traveling, however, and Gibson was playing full shows a mere two-and-a-half months after the accident with the help of some physical therapy, fan support, and a lot of determination. The latter half of 2010 made up for lost time with two tours to the northern Rocky Mountain region, a Southeast tour, and her well-worn paths across Texas.
Gibson's 2011 release, Tightrope, is both right at home with and a departure from her previous albums. While the album was recorded before her accident, the mood and tone are fitting of a year spent in reflection. Gibson and producer Gabe Rhodes are the sole musicians on Tightrope, which manages to be beautiful in its sparseness, easily accessible yet full of sophisticated notes for those who take a careful listen. A pencil eraser on a cigar box for percussion, a plucked grand piano string, or a dobro with a neck so warped it isn't a dobro anymore; these elements create an intimate album that only two creative minds sitting in a studio together for days at a time can create.
The songs themselves are tried and true Susan Gibson, whose craftsmanship in songwriting has made her one of the most respected artists in the Texas scene and beyond. Starting with Chin Up and Outerspace, continuing with New Dog, Old Tricks, and still going strong with Tightrope, Gibson continues to affirm her place on the list of troubadour songwriters who have an innate need to affect the lives of their fellow humans through song.
While the road literally stopped Gibson in her tire tracks almost three years ago, it also gave the motivation to heal and is now the means to bring her music to an audience. Finally, it is our turn to be that audience.