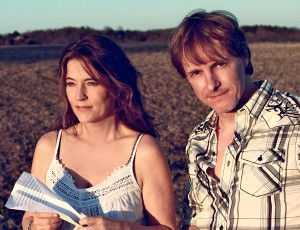 Unfortunately, due to illness, the September 11 concert with Naked Blue will have to be postponed. We hope to announce a make-up date soon. Please accept our deepest apologies, as well as those of Scott and Jen; some things are simply unavoidable. Our next concert will be Thursday, October 2, and will feature Moors & McCumber. Eliza Gilkyson will follow on October 9, and we hope to be announcing a make-up date for Naked Blue soon. Again, we apologize, and Scott and Jen of Naked Blue send their apologies as well.
Superb husband-and-wife duo Naked Blue make their Sundilla debut on Thursday, September 11. Admission at the door will be $12, but $10 advance tickets are available at Spicer's Music, Mama Mocha's Coffee, and online at www.sundillamusic.com. Free coffee, tea, water and food will be available, but attendees are invited to bring any food or beverage they prefer.
And though it has been 13 years since the terrible day of September 11, 2001, it's still too soon to forget. So firefighters, police officers, and other first responders get into this one for FREE. And any family members that come with them get in for half-price. It's not enough, but it's the least we can do.
Drawing from the Americana tradition and firmly grounded with a pleasing pop sensibility, the performing songwriter team, Jen and Scott Smith, who call themselves Naked Blue, have become a mainstay on the folk/pop scene. They quit their day jobs in 1991 and have been writing, recording & performing music ever since. The strength of their songwriting and musicianship is evident in the way they easily transition between full band performances at venues like DAR Constitution Hall, The Kennedy Center & Webster Hall and acoustic shows at small intimate venues and house concerts.
Paste Music says " alternative, rock, and AAA radio stations are playing similar music that simply isn't this good…has an honesty that sets it apart from much of the hollow, mindless music on pop radio." And Recording Magazine says "Jennifer's voice reminds us of people like Shawn Colvin, Edie Brickell, Jonatha Brooke and Allison Krauss. We love this one."
Over the years they've share stages with John Mayer, Joe Cocker, Martha's Trouble, Jeffrey Gaines, Aimee Mann, Kenny Loggins, Dan Fogelberg, Derek Trucks Band, Jonatha Brooke, Lowen & Navarro to name just a few. Their music has been featured in film & television spots on The Young & the Restless, Brooklyn South, Jack & Jill, That's Life, America's Top Model, Mein Leben & Ich and in the films The Girl Next Door, About Sarah, June, Sex Drugs & Democracy, The Smokers and Second to Die.
With previous AAA and community radio success in the U.S., Europe and U.K. from their past 5 releases, 2014 has seen them back out on the road and the airwaves. Their newest CD, 'Weightless' is a toss-up of authentic Americana, purely satisfying pop hooks and some unabashedly good rock n roll guitar work supporting Jen's smoky, intimate and award winning voice. According to Mobtown Music "attention to detail in the sound, combined with the purposefulness of the lyrics, and the expertise in performance by the musicians is what makes Naked Blue's "Weightless" a must have for your music collection."
Naked Blue has performed in Auburn before, at The Gnu's Room and Spicer's Music, but this will be their first Sundilla appearance, and it's one no music fan wants to miss. So join them at the AUUF on Thursday, September 11, at 7:30; advance tickets are just $10 and will be available at Spicer's Music, Mama Mocha's Coffee, and online at www.sundillamusic.com. Free coffee, tea, water and food will be available, but the audience is welcome to bring any food or beverage they prefer.