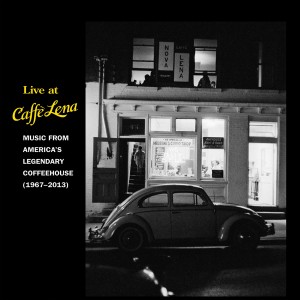 Visit the Caffe Lena Facebook page and you are greeted with a quote from Dave Van Ronk, "Caffe Lena is the best damn acoustic music club in the world!"
The list of artists who have taken the stage of the upstate New York coffee house goes a long way to supporting the assertion. In addition to Van Ronk, Tom Paxton, David Amram, Rosalie Sorrels, Utah Phillips, Jerry Jeff Walker, Arlo Guthrie, Kate McGarrigle, Pete Seeger, Patty Larkin, Bill Morrissey, Christine Lavin, and John Gorka only scratch the surface of the luminaries who have made the trek to Saratoga Springs in the fifty plus years the room has been active. Yet, in spite of Caffe Lena's longevity there has been a paucity of recordings available. In September 2013, Tompkins Square Records remedied that with a 3-CD collection that should be an essential addition to the library of anybody who treasures the interplay of a great singer/songwriter with their audience in intimate surroundings.
The quality of the recordings varies widely. The quality of the performances does not. Listening to Jerry Jeff Walker perform "Mr. Bojangles" is as close as I think I will ever get to hearing the song for the first time again. You can practically hear the audiences hang on every word and note. You can also hear the obvious affection the performers have for the venue. It is an affection that would border on reverence except that they sound so comfortable that it is hard for reverence to overcome their clear joy in the space.
Live at Caffe Lena: Music from America's Legendary Coffeehouse, 1967-2013 does not just document a venue whose influence is all out of proportion to its size and location. The collection serves as a 47-song overview of some of the most important artists who have ever performed in one of the most challenging settings, one or two musicians, a few instruments, a mic, and an audience. Let these songs roll over you one after another and you will come out the other side agreeing, it is the best damn acoustic club in the world!