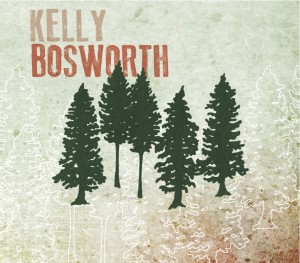 Everybody has a story, but not everybody is good at telling their story. Kelly Bosworth has an incredible story, and tells it in such a way that you'll probably want to add it to your music collection.
Born in New York but raised in Oregon, Bosworth grew up on classical piano, music lessons with her dad, and eventually jam sessions that became tradition with family and friends alike.
But in 2011, Kelly's father, Mark, had a rapid and unexpected resurgence of cancer in his brain, a cancer he had battled on and off for several years. Mark was on a trip in Southern Oregon when he went missing, likely wandering off from his campsite out of confusion. The family held informal vigils at the house, with family and friends and food and music. Finding comfort in the music she had shared with her father, Kelly began writing songs. They were a way to reach out to her father and to make peace with the jagged and broken narrative of his disappearance.
Those songs became her self-titled debut CD, released in November 2014. The album is a powerful lamentation and a meditation on loss. But this is not a collection of dirges; there is an undeniable sense of hope and celebration woven through the grief.
This becomes evident mere seconds into the first song, "Waters."
I cried for you a river,
I cried for you a flood.
And the waters carved a canyon
So deep it holds my love.
By the time we get to the end of this collection of 11 songs—seven originals, two traditional, and excellent renditions of tunes from Patty Griffin and Hank Williams—the message is clear, and perfectly summed up in the final song, "Worry Not":
Worry Not,
I have got you.
And the clouds are gone, and
Stars are in the sky.
It goes without saying that this album is a very personal piece of work for Kelly Bosworth, quite possibly something that she had to create; she wouldn't be the first musician faced with that burden. But in the writing and recording, she also created something that speaks to all, and that everyone can enjoy. Other, more seasoned performers have tried the same thing, with lesser results.
You can hear more from Kelly Bosworth in Episode 105 of the Sundilla Radio Hour, including not just great conversation with SRH host Kelly Walker, but live performances as well. And go to kellybosworth.com to learn more, and to buy your own copy of the CD; you'll be glad you did.