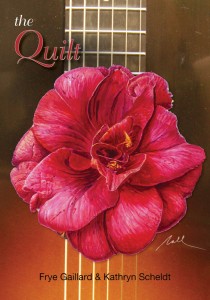 Kathryn Scheldt will perform at the AUUF on Saturday, February 2, at 7:30. The concert is a celebration of the release of the book The Quilt: The Poetry of Alabama Music, and the CD of the same name. In the book, Scheldt and co-author Frye Gaillard pay tribute to the literary legacy of Alabama's songwriters, such as Kate Campbell, Emmylou Harris, Hank Williams, and many others.
Dr. Joe Lammers, Music Department Chairman Emeritus of Queens University says "The Quilt is so full of conviction and enthusiasm… I can't imagine anything that speaks as well of the Alabama "experience" past and present." Fans of Kate Campbell, Pierce Pettis, Emmylou Harris, any other Southern songwriter are sure to enjoy both the book and the CD, both of which will be on sale at the event.
Admission is just $10; tickets bought in advance at The Gnu's Room will enter the purchaser into a raffle for a copy of the book and CD.
This concert is co-sponsored by The Gnu's Room and Sundilla, making it the latest in a series of Gnu-Dilla events.