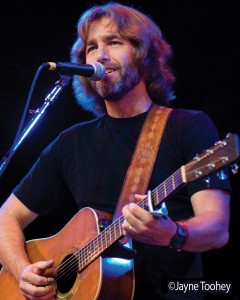 John Flynn returns to Sundilla, new CD in hand… and hopefully no bad weather anywhere around. (We have to say that whenever John is scheduled, ever since the show we had to cancel for two reasons: he was stranded in Delaware by a fierce winter storm, while at the same time Auburn was buried under several inches of snow and ice. That was one big winter storm! And, remembering it makes us appreciate it when John comes to town.
In an era of deep division, John Flynn's songs call us together as they speak for the wounded, the weary, and the afflicted; for the prisoner, the soldier, and all the forgotten ones who walk unseen in our midst. Fusing the vision of an activist with the unblinking eye of a truth-teller, John Flynn's music speaks deeply to the heart and the spirit. A wordsmith and poet of rare clarity, he evokes our shared humanity as he addresses the times we live in through songs that resound with awareness, irony, humor and compassion.
The open heartedness and resonant decency in Flynn's work have made him a staple of Phil Ochs Song Nights across the country, and brought him the respect and friendship of longtime heroes like Kris Kristofferson and Arlo Guthrie. Sally Millbury Steen of Pacem in Terris calls John Flynn "A troubadour of justice, mercy and hope."
John Flynn opens his new CD, The End of the Beginning with the lines  "Like river stone, it may be that some edges get worn smooth, or maybe it's just that these days you don't have as much to prove". These words seem to capture not only the mood of the disarmingly acoustic release, but also something of the 54 year-old singer-songwriter himself. The End of the Beginning reveals Flynn as an artist and a man, comfortable in own his skin and in full command of his craft. The disc contains eleven songs by Flynn, whom Ramblin' Jack Elliott once called the undiscovered "John Lennon of the Plasma Generation!" (Flynn admits that Mr. Elliott may have been under the influence of an enthusiasm-generating beverage at the time of this characterization.)
Few people who knew John Flynn as a boy would have predicted the path his life would take. A self-professed "straight arrow", as a senior at Ridley High in suburban Philadelphia, Pennsylvania, the former altar boy who once strummed a New Year's Day banjo in the world famous Mummers parade was named president of the National Honor Society and Scholar Athlete of the Year while receiving two congressional nominations to the United States Naval Academy. John was making plans to play lacrosse for Navy when he found out he would not be able to take his guitar with him to Annapolis. Although music had always been an important part of John's life, he was surprised to realize how much he had come to rely on his beloved Guild twelve-string.  The thought of leaving it behind, even for a few months, caused him to begin to admit to himself that he had other dreams.
John abruptly changed course and began writing songs in earnest. He put himself through Temple University playing in bar bands. Though his degree was in political science, he abandoned the idea of studying law when he was offered a staff songwriting position at Combine Music in Nashville, following Billy Swan's Top 40 country recording of John's song "Rainbows and Butterflies".
It was Swan who first introduced John to Kris Kristofferson. Since then Kris has written liner notes for John, sung on three of Flynn's CDs and even recited the lyrics to John's song "Without You with Me" at Stephen Bruton's funeral.
Today, John's shows draw from a significant body of work, ranging from his early country offerings to story songs, love songs, songs for kids, funny songs, songs of social justice, and meditations on loss, tolerance, faith and hope.  The 54 year-old father of four spurned touring when his children were young, but as the kids grew older superlatives began to welcome their dad's arrival to the national folk stage. In 2005, Arlo Guthrie invited John to join musical legends like Willle Nelson and Ramblin' Jack Elliott on the historic "Train to New Orleans" tour following Hurricane Katrina. And Ticket Magazine wrote that "John Flynn is at the near end of a long line of American poets, thinkers and folk artists stretching from Henry David Thoreau, Ralph Waldo Emerson and Walt Whitman, all the way up to Kris Kristofferson".
John Flynn will be appearing at the AUUF on Friday, March 1, at 7:30. Admission at the door is $15, but you can get tickets for just $12 at The Gnu's Room, at Spicer's Music, and online RIGHT NOW. ALSO… we haven't done this deal in a while, so let's give it a go: if someone who HAS been to Sundilla before brings someone who has NOT, the pair gets in for the price of one. You can decide how to split the savings, but basically it's two-for-one… as long as one of the pair has never been to Sundilla, and the other one has.