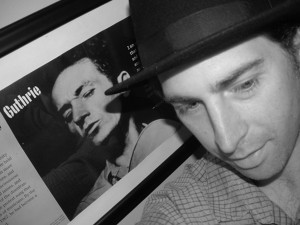 Artful, intense, and often transcendent…imaginative, and extremely engaging… If you love a moving song and magical madness, Joe delivers it all…the music, the lyrics, the energy, and the passion for exceptionally well written songs. Joe Crookston loves his audience, and it shows.
If you were to look for the perfect folk song, it would be hard to find a better one than one called "Fall Down as the Rain." It encompasses life, death, reincarnation…in short, the mysteries of the universe.
When my life is over / And I have gone away
I'm gonna leave this big ole' world / And the trouble and the pain
And if I get to heaven / I will not stay / I'll turn myself around again
And fall down as the rain
And when I finally reach the ground / I'll soak into the sod
I'll turn myself around again / Come up as goldenrod.
This song took second place in the 2003 John Lennon Songwriting Contest. The song encapsulates the essence of its creator… Joe Crookston. It's the title track of his fourth CD. In a short span it manages to represent the pillars of his upbringing and his life's goal: to live an interconnected life and be an integral part of life's mystery. Not surprisingly, it was chosen by Performing Songwriter Magazine as a 2004 "TOP-12-Do-It-Yourself" independent recording, was featured on National Public Radio's "All Songs Considered", as well as Syndicated Minnesota Public Radio, The Midnight Special and Folkscene.
Joe Crookston was born and raised in rural Ohio, with Hungarian roots, Polkas Polkas…and eastern European food. A little bit of Gypsy soul in this guy…Whether it's his hypnotic guitar sound, bubbling banjo, or short story lyrics, his music draws from his urban adventures and his rural Ohio roots, exuding a remarkable timeless quality. Haven't seen him perform?? It's never too late to rectify that problem, and it's guaranteed that you'll be glad you did.
In 1987, The Kent State Folk Festival changed his life. After hearing Harvey Reid and the Horseflies at the festival, Joe sold his electric guitar, bought a steel string and never looked back. He's a fiddler and a pretty darn good percolating clawhammer banjo player to boot…
He has performed throughout the US, at Folk Festivals, Coffeehouses, venues… There is not a navel gazing break-up song to be found anywhere…"Go see this man perform"…his audience rapport, musicianship and playful stage presence is intense, mesmerizing, and unforgettably dynamic.
Inspired by Woody Guthrie, Joe was awarded a year-long grant (2007) from The Rockefeller Foundation to travel around the State of New York, interview local residents, gather stories and write songs based on his experiences. His project is called, Songs of the Finger Lakes.
Joe Crookston has shared festival stages with the likes of Livingston Taylor, The Subdudes, John McCutcheon, Arlo Guthrie, and Tim Reynolds, John Gorka, and many others. Victory Music Review says: "Joe's songs are powerful, simple, distilled lyrical paintings weaving together cycles of life and decay, cycles of joy and pain, and eventually they thread the needle through all of us…" He is a commanding, charismatic performer. Be glad Joe's one of the good guys, because otherwise, he'd be dangerous.