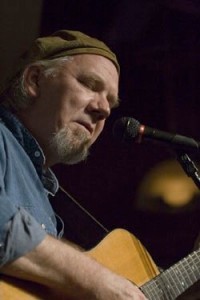 The mention of Nanci Griffith, Lyle Lovett, Guy Clark, Steve Earle and the late Townes Van Zandt would be incomplete without mentioning Eric Taylor in the same breath. Yes, that's some incredibly high praise, but it's not unwarranted, and not unearned. Unfortunately, the 14-year gap between his (highly acclaimed) debut CD in 1981 and it's (equally acclaimed) follow-up in 1995 caused some people to forget about him, and some weird music-world realities caused some of his earliest and best work to be all but unavailable to anyone who wasn't willing to shell out big bucks for import versions of those earliest CDs.
Now Eric returns to Sundilla with a new CD in hand, and it's just the kind of CD his fans have been clamoring for: a live CD, filled with many of those all-but-lost gems, and recorded with the help of friends like Lyle Lovett, Nanci Griffith and Denice Franke.
Eric Taylor is like that cool uncle you had. You know, the one who lived out in the woods in a cabin he built by himself. He talked a little saltier than your mom approved of, he didn't care if you flipped through the nudie magazines he didn't bother to try to hide, he'd tell you stories about improper things your mom did as a child, and, most importantly, he taught you a few chords on the guitar.
Although Taylor didn't put out his first album until 1981, he's been writing songs since long before. In 1970, he left Atlanta to try to make it in California. He got as far as Houston, where he ran into some songwriters with names like Guy Clark and Townes Van Zandt. He worshipped them and they, in turn, thought he was a dumb kid. But Taylor kept working at it and became a gifted songwriter and storyteller in the same vein as his mentors. Ex-wife Nanci Griffith covered his "Dollar Matinee" on her debut . Lyle Lovett, a student of Taylor's, covered his "Memphis Midnight, Memphis Morning" on his covers CD, Step Inside this House. Both Lovett and Griffith show up on Live at Red Shack to sing their respective songs (and some others) with Taylor on this, his live retrospective. Their harmonies are full of love, warmth and gratitude.
What Taylor has done on Red Shack is assemble friends (Lovett, Griffith, Denice Franke, Italian guitar virtuoso Marco Python Fecchio, and current wife Susan Lindfors Taylor) together with a handpicked audience of 20 or so guests (for whom he also bought drinks) to play some of his favorite songs that he wrote.
And while these songs are about dollar matinees and the death of JFK (beautifully told through the eyes of "Visitors from Indiana"), this doesn't feel like some ancient guy rehashing the good old days, but rather a gifted storyteller spinning mesmerizing yarns. Taylor's rambling intro into "Dean Moriarty" talks of the year 1957 ("It was a good year for cars. A bad year for haircuts, but a good year for cars.") and includes school segregation, Jack Kerouac, and trying to get girls to take a ride in his car.
Taylor may sing of the past, of bar rooms and hay fields and even Johnny Cash, but his characters want the same things we do. They want love and redemption. They want some fun and happiness. They want respect and sometimes even a little vengeance. Taylor's people are just like us, it's just that their tales are exquisitely told. And on January 25, we're lucky enough that those tales will be told at Sundilla.
Adding to our good fortune is the opportunity to hear North Dakota native Josh Harty. The two met when Josh opened for Eric on a tour overseas. At the end of the tour Eric told Josh that he could open for him whenever they're in the same area, and it so happens that the Wisconsin resident's year-long tour is bringing him to the Southeast while Eric is in town. So, just like that, we get even more great music! Critics have said of Josh "It doesn't get more Americana than this," and Rootstime.be says "Singer-songwriter Josh Harty has everything to make it. A warm-sounding voice that refers to that of James Taylor or Gordon Lightfoot, a guitar technique many artists can only dream of, and narrative texts taken from life. . . The sincerity of the songs shines and the subtle and beautifully detailed instrumentation ensure that you always stay focused."