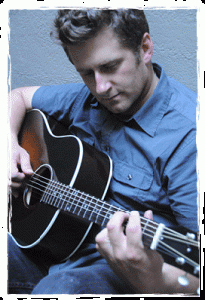 Chad Elliott makes the long journey from Iowa for his Sundilla debut on February 8.  But long joureys are nothing new for Chad Elliott; he has been on the road for more than a decade performing a blend of roots, blues and folk music. He has played across the country and has been lauded as a modern-day troubadour.
Elliott has released seventeen full-length albums since he began his songwriting career. His latest studio album, "Redemption Man," was produced by Bo Ramsey (Lucinda Williams, Greg Brown). It features the song, "Same, Old Way," which was the 2009 Woody Guthrie Festival song contest winner as well as a 3rd place winner in the 2009 International Songwriting Contest in the Americana category.
Writing songs that are part of his own identity, but full of relatable feeling, Elliott crafts music that can bring a crowd to tears or get them on their feet dancing, sometimes both.
Chad is equal parts Townes Van Zant and Woody Guthrie. He is a remarkably competent finger style guitarist and arguably one of new folk's most gifted new lyricists. Part of Chad's appeal is his natural, honest delivery of every song within. His everyman sort of voice falls like midnight rain on a smooth gravel road and warms the soul like a smooth glass of home brew.
"In the wide scope of Americana music live stories timeless as the land. With dynamic swells amid driven and transient melodies, Chad Elliott tells them one song at a time," said Sam Burrish of the Sioux City Journal. And Tracey Kelly of Intrepid Media says "Singer/songwriter and artisan Chad Elliott constantly tells stories. They're floated on chords, tucked between songs, and layered on canvas. As his tales unfold, Elliott's unassuming character and approachability create immediate intimacy. He's the guy at the end of the bar you want to talk to at 2:00 a.m. while the glasses are stacked and the jukebox fades."
He has shared the stage with well-known artists such as Odetta, Tom Paxton and Loudon Wainwright III. He has even swapped songs with some of the best, including native Iowan Dave Moore and Texas songwriter Eric Taylor.
Elliott is a 2006 Folkalley.com open mic winner and his song, "How's the Weather," was chosen out of 300,000 folk songs as an award nominee for the top 20 new folk songs on Just Plain Folks.
Above all the Iowa songwriter's music slips stories about life as he has experienced it through living with the homeless, love, divorce, fatherhood and discovering inspiration in the modern world.
Chad Elliot will be appearing at Sundilla on February 8. Admission is $12 at the door; advance tickets can be purchased for just $10 at The Gnu's Room, or on-line. We'll have free coffee, tea, water and food, though as always you are welcome to bring whatever food or beverage you prefer.