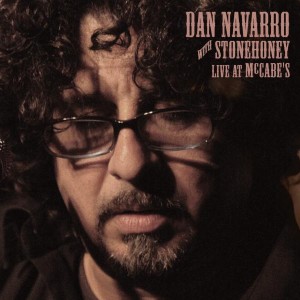 This 2009 release held special significance for a couple of reasons. It was the first full-length CD to feature Stonehoney, a popular and successful country-rock quartet that had spent too much time on the road and too little in the studio. (That issue has since been rectified with the release of The Cedar Creek Sessions.) More importantly, it was the first solo CD by Dan Navarro. Poignantly, the concert that would become Dan Navarro with Stonehoney Live at McCabe's took place just one week after the final performance by Lowen and Navarro. Lowen and Navarro were together for 22 years and released 12 CDs and would likely still be going strong had Eric Lowen not been struck down by the effects of Lou Gehrig's Disease. (Though as Navarro now says, "ALS patients are usually given two years to live after diagnosis. Eric lived for eight years, and we released four CDs.")
While the occasion was bittersweet, the performance is anything but. The 15-song set (14, really, since Stonehoney does it all themselves on "Cry Baby Cry") relies heavily on familiar Lowen and Navarro tunes, which is not surprising; also not surprising is that most of those L&N songs were penned at least in part by Navarro. But this is not just a collection of "Navarro without Lowen" songs; Navarro shows us early and often that he can more than carry the load as a solo performer. By the end of the CD Lowen and Navarro fans will see that Dan's solo career will be more than just an altered direction; it will be a refinement. Newer songs such as "Straight to the Heart of Me" and "I Think It's Time" prove that post-Lowen music will be as good as the stuff their fans have come to expect. In the end, Lowen and Navarro can't be duplicated, but Dan Navarro is more than capable of carrying the torch on his own.
Standout tracks include "Compass Point," "Cold Outside," "I Don't Believe in Yesterday," "Let Her Ride," and "Legacy." But really, they're ALL good.
"Cold Outside"

"I Don't Believe in Yesterday"