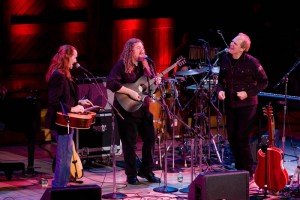 Brother Sun, still glowing from the accolades received in 2013 (including having the #1 CD on the FolkDJ charts), will make their Sundilla debut—sort of—on Friday, January 16. Showtime at the AUUF is 7:30; tickets at the door will be $15, but a limited number of advance tickets are available for just $12 from Spicer's Music, Mama Mocha's Coffee, and online at www.sundillamusic.com.
It's not often you get to say "Appearing again for the first time!" but with Brother Sun and Sundilla, it's sort of accurate. Greg Greenway has appeared solo at Sundilla many times, and Brother Sun headlined a Sundilla house concert a couple of years ago. So they're not exactly strangers, but that doesn't mean that this concert isn't going to be an Event. Brother Sun standing on the stage at the AUUF is a match made in heaven.
National Touring Artists Greg Greenway, Pat Wictor, and Joe Jencks have made their mark as veteran touring singer-songwriters, but Brother Sun is no songwriter's round. The trio's harmonies, as much as their lyrics, tell what they are about: warm as a campfire, stirring as a gospel church, rousing as a call to arms. Fusing folk, Americana, blues, pop, jazz, rock, and a cappella singing, Brother Sun is an explosion of musical diversity and harmony, in the finest of male singing traditions.
From three major points on the map Boston, New York, and Chicago – Greg, Pat, and Joe have blended themselves into Brother Sun: a unique celebration of the amazing power of singing together. As they will tell you, the music of Brother Sun is not resident in any one of them – but rather it exists in the space between them. Audiences feel this sincerity immediately. Their combined musical skills make for an unforgettable experience – three rich voices blending on a well-crafted foundation of guitar, slide guitar, piano, ukulele, and bouzouki.
Brother Sun's self-titled debut CD announced to the world that these respected singer-songwriters had banded together to produce some of the most powerful male harmonies on the acoustic music scene. After two years of nationwide touring and performances marked by outstanding songwriting, ethereal harmonies, off-the-cuff humor, and standing ovations, they released "Some Part of the Truth", a CD that goes a large step further in revealing Brother Sun not only as singers, but as complete musicians.
"Some Part of the Truth" is cinematic in its sweep, each song like a short film. The CD takes listeners on an evocative and vivid journey through America's cities and heartlands, where unsung heroes struggle and sometimes win the daily battles of life and love. Grammy-winning Producer Ben Wisch shaped the mood and atmosphere of each song, with Greenway, Wictor, and Jencks all providing instrumental touches ranging from subtle to bold. With even richer and more varied arrangements than on their debut, Brother Sun keeps reaching farther, and their obvious joy in singing together gives this latest CD its indelible optimism.
The response to the trio's music has been tremendous! From main stage performances with standing ovations at Kerrville, Falcon Ridge, Philadelphia, Old Songs, Connecticut and other Folk Festivals; to sold out concerts throughout the U.S.A, Brother Sun has earned the respect of fans, colleagues, and presenters alike. And, their music and message appeals to fans of both contemporary and traditional music.
"Some Part of The Truth" debuted at #1 on the Folk-DJ Chart, where it remained for 2 months, and received strong airplay for the entire year, ending as the #1 CD on the chart for all of 2013. The CD also rose to #2 on Sirius XM's Americana Chart. "Lady of the Harbor," the lead track, was also the #1 song on Folk-DJ for 2013, and was featured on Lufthansa Airlines In-flight Program January and February of 2014.
Brother Sun's self-titled first release (2011), debuted at #2 on the Folk DJ Chart, and was named the #8 album of 2011 on FOLK-DJ. In addition, Brother Sun made the "Best of 2011″ and "Best of 2012" lists for over a dozen radio stations in the US, including WUMB- Boston, WFUV – NYC, and WFMT – The Midnight Special – Chicago.
2015 is shaping up to be a fantastic year for Sundilla, and there's no better way to kick it off than with Brother Sun. So make your plans now to join us on Friday, January 16.Showtime at the AUUF is 7:30; tickets at the door will be $15, but a limited number of advance tickets are available for just $12 from Spicer's Music, Mama Mocha's Coffee, and online at www.sundillamusic.com.
This show is sponsored in part by the great people at Marco's Pizza, 231 N Dean Rd
Auburn, AL 36830  334-209-2200