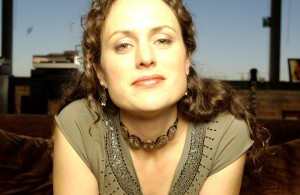 Beth Wood will make her Sundilla debut on Friday, April 19; Kyle James Hauser will open the show. Admission at the door is $12, but $10 advance tickets can be purchased at The Gnu's Room, Spicer's Music, and online at www.sundillamusic.com. Children 12 and under are admitted free of charge. Free coffee, tea, water and food will be available, and attendees are always welcome to bring whatever food or beverage they prefer.
Picture a home-body with an ever-present wanderlust, an introvert with a passion for performing, a creative free-spirit with enough discipline to rework her dream year after year, calloused little hands and a big pile of curly hair.and you've got Beth Wood, modern-day troubadour. Picture a tumbleweed blowing across the plains of west Texas, and another musician-songwriter is born! Beth Wood began her musical journey in Lubbock, a high plains Texas town with a uniquely rich musical heritage that includes Buddy Holly, Natalie and Lloyd Maines, Mac Davis, and Joe Ely to name a few. When she wasn't dodging tornados and dust storms, Beth was studying classical piano, violin, harp, and voice and contemplating the greatness of her Dad's Willie Nelson records.
With grandiose dreams of becoming a musician, a baker, or a cowgirl, Beth left west Texas to study voice and piano at Brevard College in North Carolina. A detour from her classical studies led her to Austin, where she picked up a degree in literature and a guitar. Beth began writing her own songs and quickly discovered a feeling of musical freedom that she has been hooked on ever since. Fifteen years, thousands of shows, nine albums, three cars, and numerous awards later, Beth has never looked back.
Beth's exceptional musicianship, crafty songwriting, and engaging, energetic stage presence have been winning over audiences from coast to coast. "The Weather Inside," Beth's eighth studio release, is a case study in contrast. A coming-of-age statement record from a veteran artist, Beth's latest work embraces strength and tenderness, the polished and the well-worn, the broken and the hopeful heart. Produced by Billy Crockett at Blue Rock Studio in Wimberley, TX, "The Weather Inside" delves deep into Beth's creative reserves and delivers a strong collection of songs and performances to remember.
Beth and her husband and their sweet dog Marble now live in beautiful Eugene, Oregon. Beth is settling in to the Northwest music scene, where she has been featured on OPB's "Artbeat" tv show, Ninkasi's Northwest Music sampler, and the Sisters Folk Festival and Song Academy.
Opening the show will be Kyle James Hauser, a Colorado native who recently moved to Louisville, Kentucky. Hauser is a singer/songwriter and multi – instrumentalist specializing in banjo. Kyle has performed at CMJ / SXSW / Toronto Film Festival in 2011 and was a finalist at 2011 Telluride Troubadour Contest as well as the 2011 Rocky Mountain Folks Festival. A graduate of the prestigious Berklee College of Music, Hauser has been a highly respected studio player for the better part of a decade with over a dozen credits to his name. His debut solo studio album from sonaBLAST records, January 2012's "Oh Oh," was recorded with an all-star cast of national and local musicians, including cellist Ben Sollee (Sparrow Quartet) and guitarist Grant Gordy (David Grisman Quintet), produced by two-time Juno award winner Jayme Stone, and mastered by two-time Grammy award winner David Glasser at Airshow Mastering. Hauser has shared the stage with artists such as Brett Dennen, John Hiatt, Gregory Alan Isakov, The Infamous Stringdusters, G-Love and Special Sauce, and Lucinda Williams. Since January 2012 his songs have been placed on MTV's series 16 & Pregnant and Teen Mom and in the feature films YERT and 2nd Serve.
Music from both Beth Wood and Kyle James Hauser will be featured on the Sundilla Radio Hour on Thursday, April 18. The Sundilla Radio Hour begins at 9:00 PM, and airs on WTSU 89.9 in Montgomery and Troy; WTJB 91.7 in Columbus GA and Phenix City AL, and WRWA 88.7 in Dothan. The show can also be heard on WEGL 91.1 in Auburn on Fridays at noon, and on Wildman Steve Radio each Sunday at 1:00. For more information, go to www.sundillamusic.com, www.bethwood.com, and www.kylejameshauser.com.