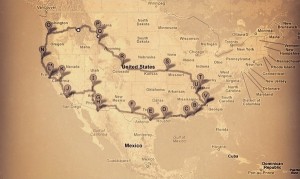 Our good friend Chandler Jones from Adventure the Great is embarking on a new, and highly ambitious, adventure.
"Zach and I will be taking a 7,000 mile road trip in May. On this trip, we will be making a documentary, recording an Adventure the Great on the road EP, creating a photography and poetry collection, and conducting a nationwide survey on 'what is beauty' and compiling it all into a book. At the end of our journey, we will be having a big showcase displaying all the projects."
They hope to raise $2,000 to help purchase equipment and offset some travel expenses. They are crowdsourcing their fundraising efforts through an Indiegogo campaign.
Indiegogo: Adventure the Great Out West from Adventure the Great on Vimeo.